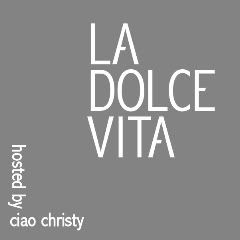 Click the button for more Dole Vita
Sorry about the late post, but yesterday I was still recovering from a very busy but very fun
finesettimana
. Not only did we celebrate our Thanksgiving on Sunday so that more of of our friends who had to work on Thursday could join us, but we also celebrated a very good friends 30th birthday by way a of a surprise party! It was so much fun. But with all of that fun and food (and maybe a little too much wine) I was out for the count yesterday and busy taking care of all of the things I usually do on the weekends, you know the necessary stuff like cleaning, laundry and grocery shopping. But I will never complain because I truly feel like the luckiest person in the world to be surrounded by so many wonderful people and some of the best friends that I've ever had, they truly are my family. I really don't know what I would do without them. It can be hard, especially around the holidays to be this far from family, but somehow, being in the home of one of my best friends with my other best friend and all of our significant others, felt completely natural. This is now the 5th year in a row that our host has made such a beautiful turkey and opened her home to us. For me this is Thanksgiving.
The bird. Yum!
This is view from our Thanksgiving table, the pumpkin pie was made from fresh pumpkins that were grown in this garden
It was wonderful to be able to share one of our American holidays with all the Italians again. Sure some of them needed a little convincing to try some of the not so familiar side dishes like sweet potatoes and desserts like pumpkin pie, but they all loved it! We ate, we drank and we laughed all weekend long and if that isn't life enriching, I don't know what is!
And this is the view from the kitchen window, it was a beautiful afternoon!